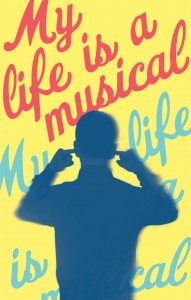 My Life Is a Musical
Music, lyrics and book by Adam Overett
---
Parker is a shy accountant with a big secret: his life is a musical. While everyone else lives their normal lives, he sees them bursting into song and dance numbers, accompanied by an invisible orchestra. His worst fears are realized when his boss sends him on the road as a tour manager for a singer-songwriter named Zach–what if his bizarre condition is discovered? Instead, on the sly, Parker gives Zach the tunes from his own musical life…the tunes become hits, and Zach becomes a national sensation. J.T., Zach's manager, is entranced by Zach's newfound artistry and she starts to fall for him…while Parker finds himself falling for J.T. As the tour arrives on a national stage, Parker must choose whether to keep his secret, or the love of his life.
Parker wakes up to a normal day in his life.
After a string of abysmal concerts, Parker wants to shut down Zach's tour, but J.T. refuses to give up.
Parker and J.T. go to a karaoke bar, where Parker picks a song at random for J.T. to sing.
Zach sings in concert while J.T. watches, transfixed, not knowing the song came out of Parker's feelings for her.
What Have You Got to Hide?
The band's sudden rise in popularity has attracted the attention of nosy music journalist Randy.
J.T. has just confided to Parker that she's beginning to fall for Zach. Alone on the street at night, Parker takes this in.