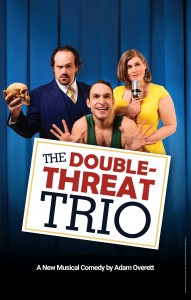 The Double-Threat Trio
Music, lyrics and book by Adam Overett
---
To make it on Broadway, you have to be a triple-threat — you have to sing, dance AND act. Nina sings, but can't act to save her life. Kenny dances, but can't sing a note. And Jamison, a classically trained actor, can barely point his toes. But together … they can be a star! When they team up with legendary theater diva Millicent (a writer/director/producer/choreographer/designer/stage manager), they're off and running toward the opening night of their dreams.
THE DOUBLE-THREAT TRIO received its world premiere production at Pittsburgh Civic Light Opera in February-April 2019.
We meet our heroes: Jamison, Nina and Kenny.
Our heroes meet each other, and a plan starts to form…
At their first rehearsal, the trio read through the opening number of their new musical project, "Oed!" (an adaptation of Oedipus Rex). It's, um, not what they expected.
Our heroes, each alone in their own thoughts, hunger for fame and fortune.
At their next rehearsal, our performers try to pull out all the stops and strut their best stuff on this number from "Oed!"
Kenny, the dancer, remembers growing up with a mom who never believed in him.
"He May Be Blind": With everyone stepping on each other's toes, rehearsal is not going well.