New York Theatre Barn presents NYTB IN THE D-LOUNGE with music of Adam Overett and Peter Saxe!
Monday, Jan 31 – 7:30pm
Daryl Roth Theatre @ Union Square East (Park Ave. South)
101 East 15th Street
$10 cover, 2 drink min, no reservations required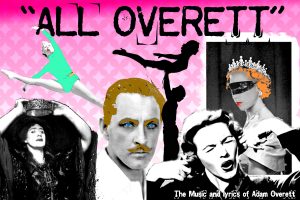 My half of the concert is called "ALL OVERETT" ….
Meet the Double-Threat Trio: three unfortunate performers who can't master their third skill to save their lives.
Meet a starry-eyed young girl who wants to be a clinically insane Scottish murderess when she grows up.
Meet the grandson from Dirty Dancing (you know, the one with "two hotels") and find out what he REALLY wants to say to the Jennifer Grey character.
Meet other people too. Oh, you don't know them? YOU SHOULD.
They'll be played by the likes of Elena Shaddow (La Cage Aux Folles), Amy Justman (Company), Amanda Leigh Cobb (The Importance of Being Earnest), Michael Lluberes (Dirty Dancing), Aspen Vincent (American Idiot), Jaclyn Huberman (I Love You Because), Kristine Reese (Wicked), Craig Laurie (Jersey Boys), F. Michael Haynie (We The People) and Adam (The Light in the Piazza) himself.
Direction by Dev Janki (Zanna Don't), musical direction by Andy Einhorn (Sondheim on Sondheim).
Get Overett. ALL OVERETT.