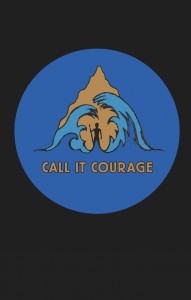 Call It Courage
Music, lyrics and book by Adam Overett*
---
Mafatu's name means "Stout Heart," but ever since his mother drowned when he was three years old, he has been terrified of the sea (The Boy Who Was Afraid). His father, the Great Chief of the island, is ashamed of him; the other kids, especially the bold Viri, scorn him (Brave). Only a girl named Kana, Mafatu's friend since childhood, is kind to him. But when he overhears even Kana calling him a coward, Mafatu can bear it no longer. With his dog, Uri, he climbs into a canoe and sets sail to face once and for all his fear of the sea—and Moana, the Sea God (Stout Heart).
When a storm washes them up on another island, Mafatu is too afraid to venture back out onto the ocean…but he is also terrified of his new, uninhabited surroundings (Nobody Here But Me). When he comes upon an abandoned stone idol—once the sacrificial altar of the legendary "Eaters-of-Men"—he is even more frightened; but he musters all his courage to snatch a spearhead from the pile of bones. Flushed with pride at this victory over his fear, Mafatu begins in earnest to build a home and tools, creating a new life for himself and Uri on this island (Day By Day).
Back at home, hopes for Mafatu's return begin to fade. Tavana Nui and Kana cling to their belief that Mafatu is still alive, but they both know that time is passing, and a new successor to the Chief must be chosen. The most likely choice is Viri—who is also Mafatu's rival for Kana's affections.
Mafatu thrives on his new island, despite Uri's constant nagging at him to take them home—and his reminders of the dangers that the island offers. (Let's Get Out of Here). Although Mafatu thinks wistfully of home, his memory of being so ill-treated there makes him decide to stay on the island permanently (Home). As he faces more and more difficult and frightening trials, his confidence grows (The Shark). But back at home, Tavana Nui must come to a final decision about who will succeed him as Chief (Tavana Nui's Prayer)…and when the angry tide rises onto Mafatu's island and sweeps away his home and all his possessions, the boy's terror of the sea returns with a vengeance (High Tide). Alone and destitute, driving away even Uri in his anger, he is forced at last to face the true source of the fear that has gripped him all his life: the pain of losing his mother to the ocean (Safe With Me). Only now does Mafatu realize that he must face the sea one last time…and, after making up with Uri, he resolves to return home (Home Reprise).
Mafatu and Uri build a canoe and prepare for their journey—but to his surprise, the Eaters-of-Men return in the middle of the night, and chase them from the island before his canoe is ready. Alone with Uri on the stormy sea, Mafatu is almost drowned—but he refuses to be vanquished, and cries out his defiance against the Sea God. He has conquered his lifelong fear at last (The Last Crossing). Mafatu and Uri manage to make it home, where he is greeted by his father, Kana, and the other islanders—all of whom are filled with love, awe, and a new respect for this brave "Stout Heart," their future Chief (Finale).
*Based on the Newbery Medal-winning novel Call It Courage by Armstrong Sperry. Copyright 1940 by Macmillan Publishing Co., a Division of Macmillan, Inc. Copyright renewed 1968 by Armstrong Sperry. Adapted for the stage by arrangement with Simon & Schuster Books for Young Readers, Simon & Schuster Children's Publishing Division. All rights reserved.
The following audio selections and photos are from a youth production of CALL IT COURAGE produced by the Zach Theatre in Austin, TX.
A review of CALL IT COURAGE, written by Zach Theatre audience member Philip O from Austin, TX:
"Zachary Scott's talented youth program has delivered one of the best live theater performances I've seen in years. Through the hard work of the cast, a wonderful original script, and the talents of director/choreographer Adam Roberts, my wife and I were astonished! The play follows the journey of young Mafatu, the "boy who was afraid." After losing his mother to the waves as a child, he embarks on a journey to conquer his fears and face his inner demons. This is a "story theater" piece, in the style of The Lion King, where actors embody animals, plants, and nature. The simple set comes alive through dance, song, and movement. With force and energy the young performers bring boars, sharks, trees, rafts, and the ominous ocean to life. We were amazed at the talent, energy, and commitment each actor brought. Often both funny and tragic, the show takes you on an amazing journey in just 90 minutes. A wonderful adventure for kids, and plenty of depth for adults. See it while you can!"